A REAL WONDER OF NATURE
Etna and its wonders
The highest and most active Volcano in Europe, since the beginning of time Etna has been an amazing natural attraction.
Spread over an area of about 1600 square kilometers, the Mountain, as people in Catania call it, overlooks the Ionian Sea to the east, is bordered by the Simeto river to the west and southwest and the Alcantara River to the north which, running through lava soil, gave birth to the beautiful Alcantara Gorges.

During an eruptive phase, lava can also leak from the many craters that are found on her flanks, and witnessing one of  its eruptions it is an unmissable show destined to remain forever in your memory.
Around the big volcano extends an exceptionally beautiful environment, an area marked by the beautiful landscape created by historical lava flows and protected by a national park: il Parco dell'Etna. With its forests,  trails, views, the historic centers of its villages,  typical products and wine cellars, the park is an ideal place for tourists and wine, gastronomy, outdoor activity and nature lovers.
AMONG THE MOST POPULAR TOURIST DESTINATIONS IN THE WORLD
Taormina, the pearl of the Ionian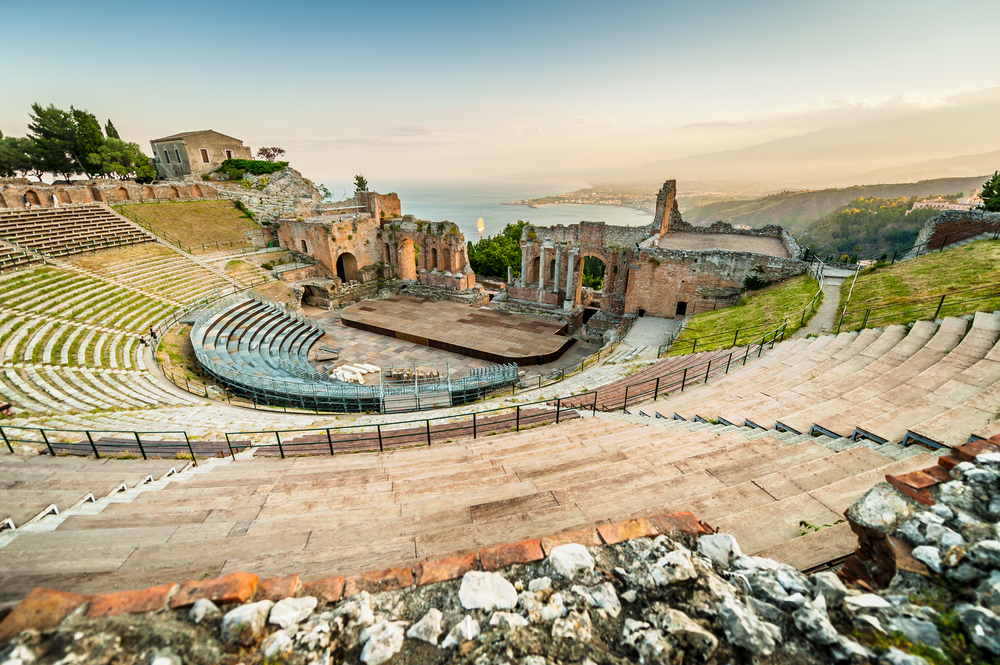 A delightful little town, loved by famous writers and artists such as Goethe, Maupassant, Rouel and others, Taormina fascinates with its natural beauty, its monuments, its historical buildings and its crystal clear sea, where the beautiful Isola Bella lies.
Founded by Greek colonists, Taormina has been Roman Arab, Norman, Swabian, Angevin, Aragonese, before passing to the Habsburgs and ultimately returning to the Spaniards under the Bourbon banner until 1860.
Among the monuments and places to visit : the medieval cathedral, the great Greek-Roman Theatre, the Roman theater Odeon, Palazzo Corvaja, the wonderful nature reserve of Isola Bella, and the long red brick facade of the Roman era called Naumachie stand out.
Here, the Taormina Film Festival takes place. One of the most qualified Italian cinema summer events, renowned for the participation of the most prestigious figures of the International film industry and for spectacular outdoor screenings with the ancient Greek amphitheater in the background.
A SMALL ISLAND SURROUNDED BY A CRYSTAL CLEAR SEA
Isola Bella, a natural gem
A National Monument since 1984 and a Protected Natural Park since 1998, Isola Bella is a small island of incomparable charm and beauty, a place to visit and love, surrounded by a crystal clear sea
and linked to the mainland by a thin strip of sand.
Situated along the coast, the island can be reached from the center of Taormina by cable car or,
for those wishing to go for a walk, taking a path that leads directly to its entrance.